Market for Hybrid Work Legal Tech Is Growing, But Not Without Hurdles
As hybrid and remote work options become table-stakes hiring features, legal tech providers are forging a path in the still-nascent market, and firms are eager to explore.
August 01, 2022 at 10:00 AM
5 minute read
Legal Technology
Written by: Isha Marathe
Legal Tech Reporter

Today, within legal and beyond, the ability for employees to work from home, even for a few days of the week, can mean the difference between scouting top talent and struggling through a worker shortage.
And as more firms adapt to these innovative workflows to keep up with the times, some tech providers are finding themselves striking the iron while it's hot. Many are partnering with law firms and molding their hybrid workflow needs.
Startup Maptician, for instance, was launched in 2016 to cope with the remote work needs of companies that have offices in various locations, such as scheduling meetings and collaborating on projects across time zones. With the COVID-19 pandemic, Maptician found its niche in finding short-term office space for law firms.
To be sure, it's not the only one capitalizing on such demand. Firms such as Saul Ewing Arnstein & Lehr have experimented with their own tech to facilitate hybrid work, while providers such as workplace platform Eden Workplace are popping up around the market. And while the longevity of these solutions remains precarious, the pioneers are forging on.
AshLea Allbery, chief operating officer of Maptician, said the startup's tool works as a reservation system and a visitor management system, and can integrate with a chat tool such as Slack or a collaboration tool such as GoogleDocs.
"We can use all the tools that already exist to exchange the experience within Maptician," Allbery said. "One of the things law firms love is that we are a nimble group, we aren't a group that's existed for 20 or 30 years, so we don't have a hard time making changes [asked for by clients]."
While Maptician launched pre-pandemic, many are now following in its footsteps.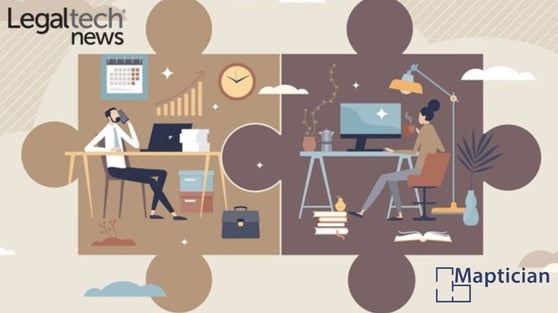 "As technologists in the technology world before [the pandemic], hybrid wasn't new at all to technology firms. But hybrid is new to everybody else," Allbery said. "We did not think everybody would go this way. So now everybody is looking for seat-booking [features] in the hybrid space in general."
Beyond legal, Maptician caters to private equity firms and accounting firms as well. But because it piloted with law firms, Allbery said the company has grown alongside legal's journey into hybrid workflow.
Now, one of the company's most demanded features among lawyers is conference room functionality to prepare for information technology services, catering orders, and organizing equipment on-site in advance of an in-person conference. The provider is scaling up in August and September to integrate various service ordering needs for law firm clients. Their "road map into February 2023 is primarily driven by law firms," she added.
To be sure, Allbery sees a strong future for Maptician within legal because she doesn't envision a world without hybrid workflows anymore, setting in stone the need for an office hoteling legal tech tool.
Todd Corm, chief information officer at Saul Ewing, agreed that hybrid workflows are here to stay in the near future, but he is also a little more cautious, calling it "early days."
While he believes in the importance of app-based solutions such as the firm's SEAL2Go, which is a collaboration tool that seeks to help the firm move away from email and encourage online community and learning, some of the main issues that many hybrid-focused tools in the market haven't yet been able to effectively tackle are the work location and utilization management, Corm noted.
"Tools that can notify who is going to be in the office and when" and tools that enable "a young associate" to indicate whether he or she has availability for certain projects "will be very useful if the hybrid model becomes permanent," Corm said.
To be sure, not every law firm may be fit for a legal tech solution such as Maptician or an internal tool such as SEAL2Go.
Brett Burney, the founder of Burney Consultants, said while there is a market for such solutions, successful adoption will ultimately "depend on the structure and culture of the firm."
"As we cope with the fallout from the pandemic, some firms are staying the same while others are adopting some form of a virtual or hybrid model," he said. "If a firm requires hybrid or 'staggered' office days, then they will definitely need a way for professionals to reserve offices and these software platforms can easily allow this."
Of course, all is likely not going to be smooth sailing even for firms that may be a good fit with a certain tool, Burney noted.
"The only problem I foresee when it comes to law firms is the question of priority or seniority. While many of these platforms provide a first-come, first-served approach for reserving desks, law firms may want to give partners first pick at offices and junior associates get whatever is left. But this would be a reflection of the culture in each law firm," he added.
"Whichever platform that a law firm might go with, probably the most critical element is that it hooks into the firm's calendaring system. Lawyers could certainly be trained to access platforms like Maptician or Eden, but many legal professionals live and breathe by [their] calendars so that would be a requirement," he said.
Ready to have a conversation about powering your hybrid office with Maptician?
Fill out this form and we will be in touch!