The #1 platform that makes

hybrid successful for people
Maptician empowers your professionals by creating a seamless and simple, world class hybrid office experience.
In a single touch, know where peers are working, reserve a desk next to a friend, book a conference room and route AV services or catering automatically, deliver tech-enabled visitor management, collect data that helps you make great decisions—and all the while build a hybrid workplace your people love.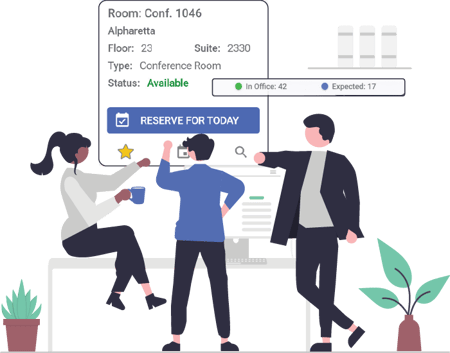 That's why we're #1.
Ready to love hybrid?
Schedule here to see what everyone is talking about.
What's our secret? Make it easy.
Simple by design, but powerful enough to drive the most complex hybrid strategy of the global enterprise, Maptician's secret is creating an experience your users will love – and actually use.
Know Where, When, and How work is done
Hybrid Workplace

Presence

Scenario Planning

Conference Room Management

Visitor Management

Workspace Analytics
Maptician's editable floor plan, presence module, and seat allocation functionality give managers the ability to design a space employees love while being able to quickly know who is in-office, remote, and on leave.
Create the perfect space with:
• Interactive floor plans
• Integrated desk hoteling
• Room booking
• Flexible open seating
• Employee scheduling
Employee engagement
An effective office encourages employees to collaborate, utilize its resources productively, and establish a positive company culture. Maptician's Employee Engagement tools facilitate these objectives to let you get the most out of your investment in office space.
Office Hoteling & Space Booking
With Maptician, employees can quickly and easily reserve a desk or meeting room for their next visit to the office. Interactive maps of your office space show which desks and rooms are available for reservation on any given date and time.
World Class Conference Room Management
Maptician Conference Room Management encompasses everything companies require to enable world class, end-to-end conference room management in one simple, cloud-based tool.
Seamless and Sophisticated Tech-Enabled Visitor Management
With Maptician Visitor Management, visitors are greeted with an exceptional, technology-powered experience. Visitor Management also increases the efficiency of internal teams and colleagues while improving office operations' overall security and compliance.
Workplace Analytics Software
Optimize your workforce as well as your physical office space with office utilization reporting, cost analysis data, and more. Maptician's Workplace Analytics tools make it easy!
Trusted by over 100,000 users daily
From boutiques to Fortune-ranked businesses, over 100,000 employees and managers trust Maptician to create a hybrid workplace they love.
Get up and running in as little as one day.
Maptician can get your hybrid workspace model up and running in as little as one day, depending on your office and employee count.
Ready to get started?
Schedule a demo with one of our hybrid office experts, or reach out if you have a question.