Hybrid Office
How to Create a Hybrid Workplace Model
The idea of the hybrid workplace is becoming more popular, but also proving difficult to manage. Create a successful hybrid workplace model with these tips.
---
How to Create Hybrid Workplace Solutions
Everyone is embracing hybrid technologies these days. The workplace is no different!
We understand the difference between working full-time from home and being in an office every day. However, the elusive sweet spot is somewhere in the middle.
Did you know that 74% of businesses in the United States are using, or are planning to use, a hybrid workplace model? Many of them are finding employee satisfaction at an all-time high—every employer's dream!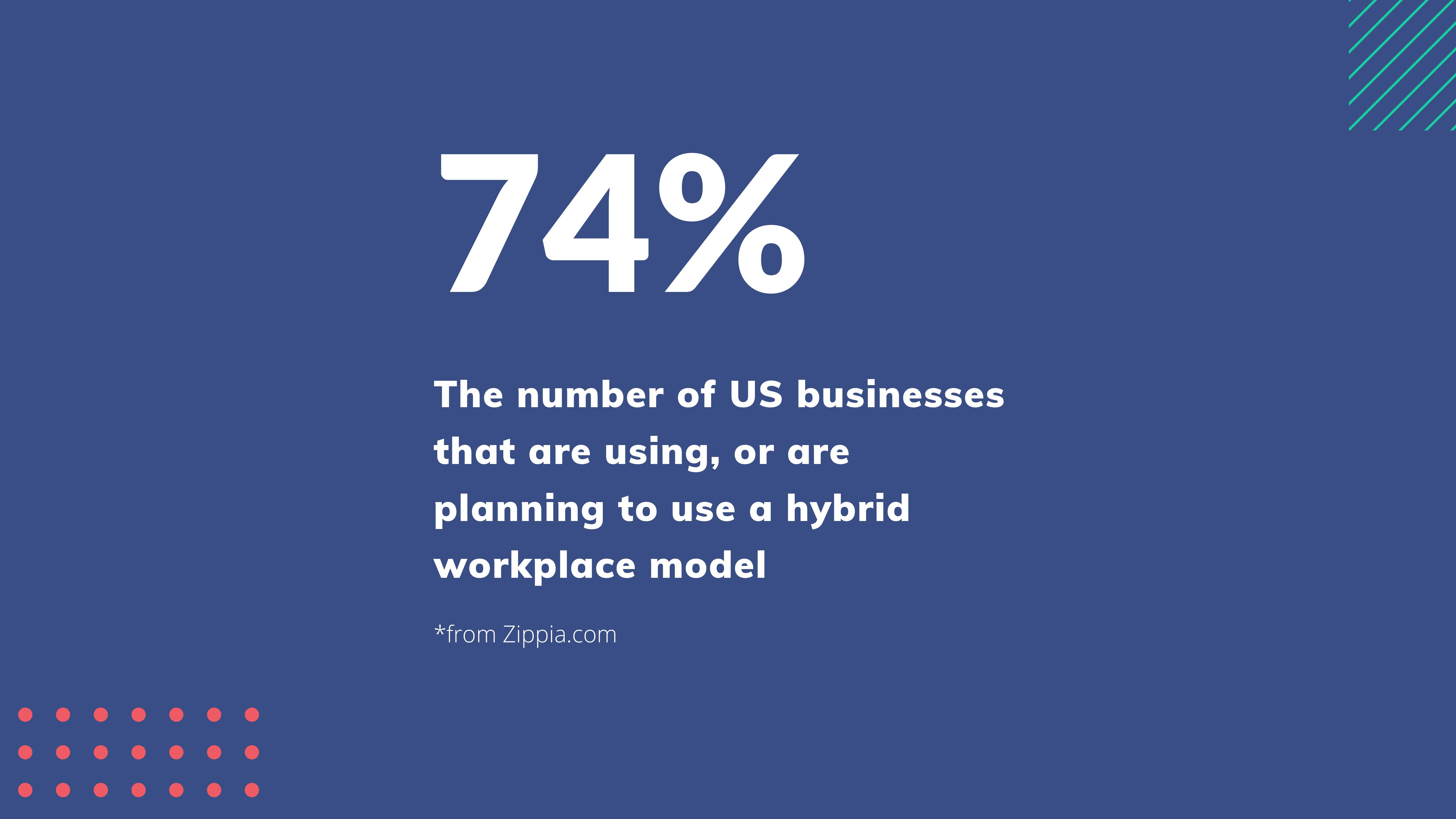 If you are thinking about changing your business model to a hybrid one, or are looking for hybrid workplace solutions, read on!
What Is a Hybrid Workplace?
The hybrid workforce model is a workplace that combines elements of both remote (working off-site) and in-office employees. Employees in a typical hybrid workplace have options to choose when and where they work. Hybrid workers may divide their time working from home and in the office.
A hybrid workplace model allows a company to have one or more locations where part of its workforce goes into the physical office while the rest works from home. This is quite different than a pure remote working approach, in which no physical premises are used, and all employees work from home.
The details of how a hybrid workplace works vary with each organization. But it could have a few permanent staff or many teams that rotate every few weeks.
You may require your employees to attend face-to-face meetings in a hybrid workplace. You may also opt for most business to be based in the office, with only a few individuals or teams that are remote workers.



Why Should You Develop Hybrid Workplace Solutions?
When Covid-19 caused the need for social distancing, businesses were inclined to reassess what it meant to have a physical office. The outbreak disrupted the way most companies had conducted business for years.
Since 2020, employee priorities have shifted. Some are uncertain about returning to work, while others are excited to go back. Most people think that the traditional 9-to-5 workday is a thing of the past, requiring a more flexible approach.
The past two years have shown us that we have the software, tools, and skill to work well from anywhere. But it has also exposed the drawbacks of remote working. Employees may feel isolated or under-appreciated. Their home technology setup may be insufficient, or their hybrid workstation may be too distracting.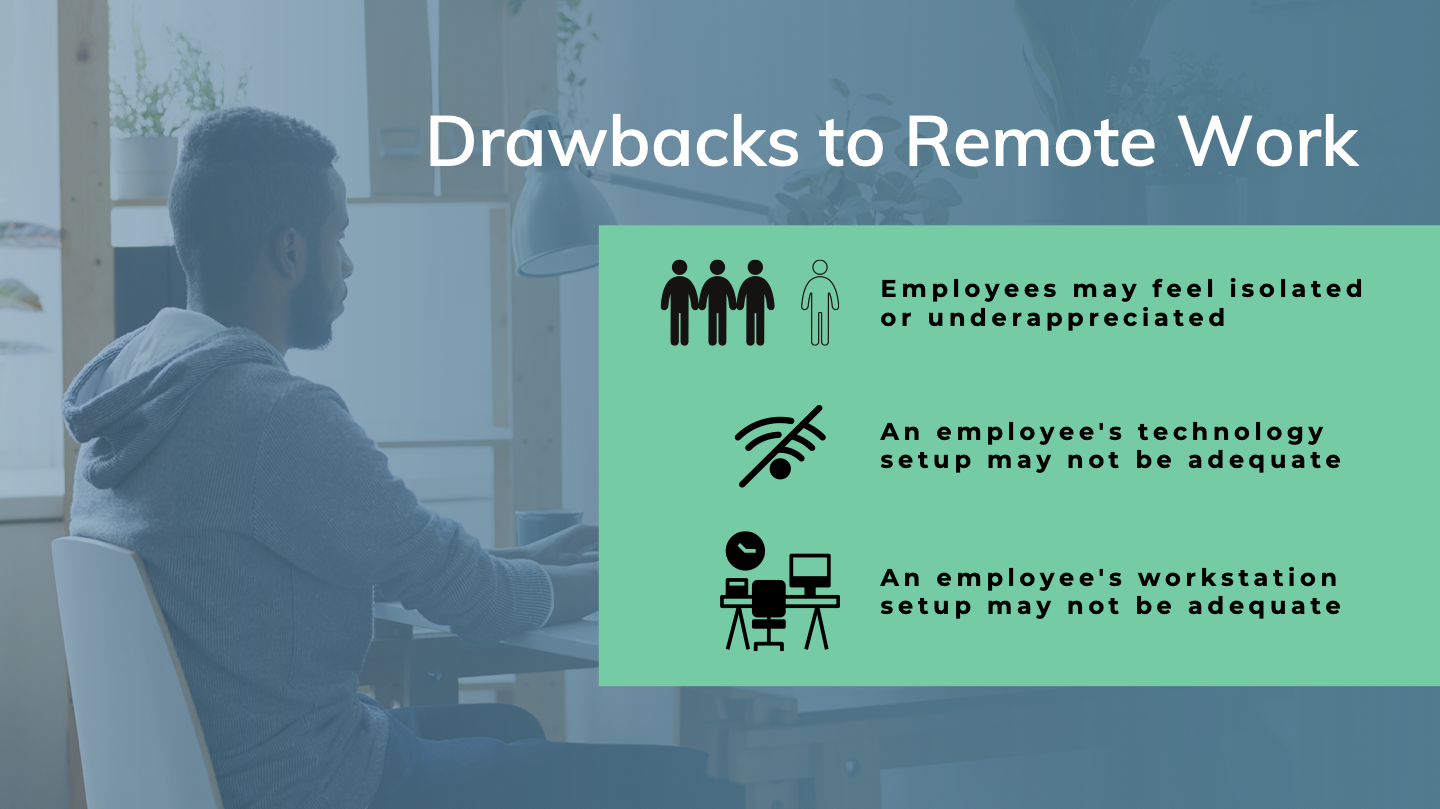 The lessons learned during this phase of working from home have shaped how we will return to the office. Employees desire the freedom to work when and where they want. They want to spend less time commuting and more time with their families and friends. Employees also like to see their coworkers in person and collaborate on common goals in a physical location.
These are considerations that have resulted in hybrid workplace solutions. The mixing of remote work and working at the office. Employers are trying to unlock the business from its physical location while allowing people to work onsite if they want to.
As an employer, you can use the hybrid workplace to reconfigure your existing office layout. You can recruit new talent from other parts of the country, diversifying your workforce. Companies have also noticed a positive effect on employee productivity when remote working. The hybrid workplace is a means of sustaining that good impact over time.

Why Do Many Employees Prefer a Hybrid Workplace?
Even before the pandemic, people began to place a higher emphasis on job flexibility. Employees today seem to appreciate the option of choosing when and where they work. Some even find it more significant than a higher wage, illustrating a shift in how we view the traditional workplace.
Many employees understand the need for occasional face-to-face social interaction. That is why business owners like you must understand the need for developing hybrid workplace strategies. Our time spent in lockdown and isolation has helped us find a balance between the comfort of our home office and the interactions in the company environment.
The office is a gathering spot for people to mingle, network, and collaborate on projects. Yet, it is still crucial to have the opportunity to decide how often to come into the office.
Several causes are attributed to this movement toward the hybrid workstation and away from only remote work. We are better equipped to work from anywhere with a power outlet and a strong Wi-Fi connection.
Collaboration has become easier over long distances thanks to cloud-based applications. We are also paying more attention to our work-life balance, customizing our work hours to fit our personal lives rather than vice versa.
For other workers, their ability to work from home may be difficult due to some circumstances. Younger employees may not have enough space at home to set up a suitable workspace. They may still live at home with their parents or have roommates.
The advantages of a flexible workspace go in hand with the advantages of having a tangible office. The pandemic sped up an existing workplace trend.
It demonstrated the possibility of a hybrid workforce. But it also revealed some drawbacks of only having a remote work style. Now, employees desire the best of both worlds, especially those beginning their career path.

How Can You Successfully Design a Hybrid Workplace?
When making the switch to a hybrid workplace, you may need to change some of your company's processes. The complexity of making these changes will be determined by the size and structure of your company.
Examine how businesses like yours have transitioned to a hybrid or remote work environment, and pay close attention to the lessons they have learned—and the blunders made—along the way.
Here are some general ideas to keep in mind while you plan:

Ask Your Employees What They Prefer
Don't make the mistake of assuming that all employees prefer the same thing. Everyone has varied priorities. Designing a hybrid workplace will require your employees' input from all areas.
Consider the view of your team by conducting a survey and be open to hearing their complaints or suggestions. Also, be truthful with them about the kinds of improvements you can implement in the workplace and those you can not.
Offer Them Simple Options
Give employees a choice of two or three ways to work at your company. One where they spend most of their time in the office, one where they spend most of their time working at home, and one falling somewhere in the middle.
Allow your employees the option to change their minds, but try to discourage them from doing it too often. This way, you can plan and know exactly where each employee will be at any time. Doing this will allow you to manage your business resources better.
Embrace Cloud Technology
The same tech that allows for remote working also powers a successful hybrid workplace. Use cloud-based tools and videoconferencing tech to even the playing field between those who are hybrid workers and those who work in the office.
Establish that your employees have access to the remote-working hardware they need. When a worker is not in the physical workspace, they should be able to do their job as if they were there. A worker in the best hybrid workplace should feel equipped to do their duties even if the physical office disappeared overnight.
Your employees should have access to all the information and resources they need to be successful. Make these resources and information available to them. Document every detail, from a business meeting to a casual conversation in the hallway, so that everyone is current and on the same page.
Maintain Your Company Culture
Company culture is a difficult concept to define. A corporation can have a strategic vision or a set of guiding beliefs, but culture in the workplace evolves from its employee connections. Remote workers need connection to the human side of the company.
This can take place via casual online gatherings and interactive town halls. You don't want them to miss out on those all-important watercooler moments.
Make sure that your remote employees feel like they are getting the entire workplace experience. Examine your company's perks and benefits to make sure they are not only beneficial to people that come to work.
It is a huge task to transfer in-person company culture to a hybrid environment, and it doesn't happen overnight. Start by defining what your company's values are. Write them down and reinforce them through every possible means.
Just Because You Don't See Them Doesn't Mean They're Not There
Because hybrid workers are, at times, less noticeable than in-office workers, they are more likely to get ignored for a promotion or other possibilities. Be aware of your natural prejudice and work to ensure that your decisions are fair.
Train your managers to engage and integrate remote workers. Adjust your recruiting process to provide a fair playing field so that your hybrid employees are not put at a disadvantage because they are not in the room.
A Hybrid Workplace Is Beneficial for All
As we move from a mass society to more of a network society, it's vital to incorporate the right hybrid workplace solutions for your business. It may seem daunting, but it can be done successfully.
We can help you develop your hybrid workspace model. Contact us, or check out our blog section for more information.