Planning a hybrid office? Make sure you have an interactive floor plan
Interactive Floor Plans help support efficient employee interaction in even the most dynamic hybrid work environments.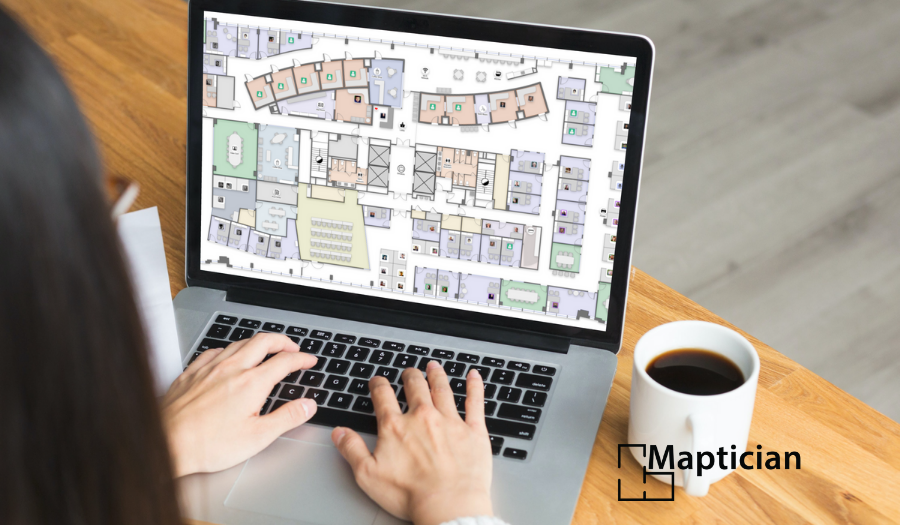 Communication in a hybrid office environment can be challenging, especially if you're used to a tightly-knit workplace. If you've ever struggled to find a coworker in the workplace because you don't know when they'll be in, then you know how frustrating it can be. Interactive floor plans are here to help! They allow you to know when your coworkers will be in the office and where they'll be sitting, so you never miss an opportunity for collaboration again.
What is an interactive floor plan?
An interactive floor plan is simply your company's physical space depicted as if it were a map. By overlaying information about each area, employees can see where they are and where their coworkers will be, in addition to displaying available resources and amenities.
This allows them to plan their workdays more effectively and makes it easier for them to find each other without having to wait around or walk-through other employees' workspaces. An interactive floor plan can be live, showing scheduled employee locations in real time, or it can display scheduled locations for future days; either way increases productivity because everyone knows exactly where they need to be when.
Interactive floor plans help boost employee engagement
The idea behind hybrid offices is simple: it's about helping employees work from wherever they want, whenever they want. One obstacle to the strategy is that there needs to be a way for coworkers to find each other in this new highly dynamic workplace.
Interactive floor plans are a great option for staying connected and making sure you always know where your coworkers are located. Integrated forward-looking schedules give employees insight into what time their coworkers will be at certain desks or in certain spaces. Best of all, when your workforce is spread across multiple locations, Interactive Floor Plans can help people feel connected and unified. By showing where colleagues are located and where they're going next, these tools foster a sense of team building and inclusion. Besides keeping things interesting, it also allows everyone else working at the time to see who else might be around if they need help, guidance, or suggestions.
Remote working can be great for getting work done, but for many team-building tasks, it's not as efficient as working together in person. Interactive floor plans help employees find specific teams or coworkers and know when they're due in. Employers are more productive when people know where their coworkers are so they don't waste time hunting or miss opportunities for collaboration. That adds up over time and can impact overall performance in your organization.
Technology Considerations
Mobile devices are a must-have for businesses of any size. Not only do employees want quick and easy access to reservations and timeslots, but they might also be looking for ways to navigate the building or locate security measures in case of an emergency. It's important to make sure your floor plan technology is mobile-friendly, so it can be used spontaneously rather than only when an employee is at their desk. It's an important feature to have for desk reservations as well, since an employee should be able to locate a suitable workspace when they walk into the office each day.
Companies contemplating moving into a hybrid workplace need to think carefully about what technology they're choosing. Is an occupancy tracking tool designed for mobility? Is it flexible enough to let staff engage with one another through laptops, tablets and smartphones? Ideally, an integrated solution will work with your existing tools, so you don't have to waste time trying to keep multiple systems up-to-date.
Company Culture and Employee Engagement
One of the challenges of implementing a hybrid office model is that not all coworkers are familiar with each other, and a hybrid office environment may limit opportunities for people to meet up. With this in mind, it's crucial to include space on your interactive map where people can share information about themselves. You could even give your employees bios or digital profiles so everyone has better familiarity with their coworkers.
Companies often make introductions part of job training, or simply encourage new hires to reach out and connect to their peers and key individuals. Either way, it makes for stronger relationships and improved collaboration if everyone knows who works near them and how to find when they will be around. Even after you've introduced coworkers, don't be surprised if newcomers still look a person up before visiting; many employees like knowing exactly who they're talking with before committing to a social interaction.
Hybrid Office Enablement
Interactive floor plans are one of several technologies that can make a hybrid office strategy successful. An effective interactive floorplan helps to promote employee collaboration, leading to increased creativity and idea cross-pollination, which in turn leads to better business results. Because technology continues to improve at a rapid pace – as do employees' expectations – having innovative tools available draws highly skilled professionals into your company and helps those already there to feel more engaged.